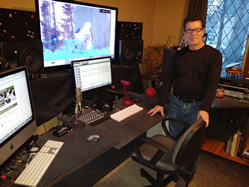 Hi, I'm John Schritt and I have always been into sound and music- from my school days singing in choirs and playing roles in musicals, to flipping my brothers albums on my Pioneer turntable, (which I still use) listening to Jimi Hendrix, Cream, Deep Purple, Neil Young etc. much to my mothers chagrin. 
I always knew that I would have a career in the sound industry, somehow, somewhere.
As a member of the popular group Elias, Schritt & Bell, in the early '80s, I performed locally in various clubs and toured with artists including; Valdy, Leon Redbone, Juice Newton, The Pointer Sisters, and The Little River Band. Elias, Schritt & Bell recorded numerous demos and one album entitled, Awakening.
I was also in demand for studio session work as a singer and musician.
I got my start in the studio business in the early eighties at Roade Recording. A few years later I found full time employment at Wayne Finucan Productions. Initially employed as an assistant engineer I quickly moved up the ranks to engineering radio and television commercials, doing audio post production on videos and films and recording album projects. Some of the album projects that I have engineered are: Walle Larsson, Fred Penner, Valdy, Heather Bishop, Jacques Lussier, Rocki Rolletti, Connie Kaldor,
(Juno Winner), Jeffrey Hatcher and the Big Beat, Al Simmons, (Juno Winner), and Burton Cummings,
among many others.
In 1991, my wife Shirley and I purchased Wayne Finucan Productions and changed the name to Channels Audio & Post Production. The studio was a mainstay of the recording and film post production scene.
In fact, along with the Wayne Finucan Productions days, it was the longest running facility in Winnipeg.
Over the past decade, I have moved more toward audio post production for film and television,
focusing mostly on sound effects editing and recording Foley, delivering exceptional client experiences while creating responsive award winning outcomes. I feel that my work ethic and commitment help drive the success of projects to completion.  
Features, MOWS, Docs | Doc Zone/Nature of Things| Television | Shorts & Animation